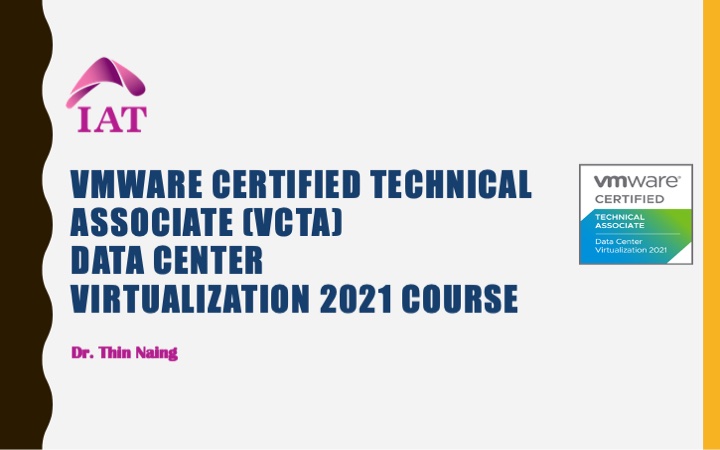 Instructor

:

Dr. Thin Naing

Lectures

: 54

Students

: 4

Duration

: 30 hours
VMware Certified Technical Associate (VCTA) 
The VMware Certified Technical Associate (VCTA) is a new credential offered by VMware that validates the skills and knowledge required by candidates performing operational tasks within a virtualized infrastructure, in areas across multi-cloud operations, networking, security, and device management. The training provides hands-on practice and learning for both new and experienced technical students.
Data Center Virtualization (VCTA-DCV) Course Content
The VCTA-DCV certification holder has a basic understanding of virtualization and vSphere concepts. The certification holder also demonstrates knowledge of data center technology and basic troubleshooting concepts. A VCTA-DCV holder also has a working knowledge of managing cloud resources and basic networking concepts.
Architecture and Technologies
Products and Solutions
Planning and Designing
Installing, Configuring, and Setup
Performance-tuning, Optimization, and Upgrades
Administrative and Operational Task