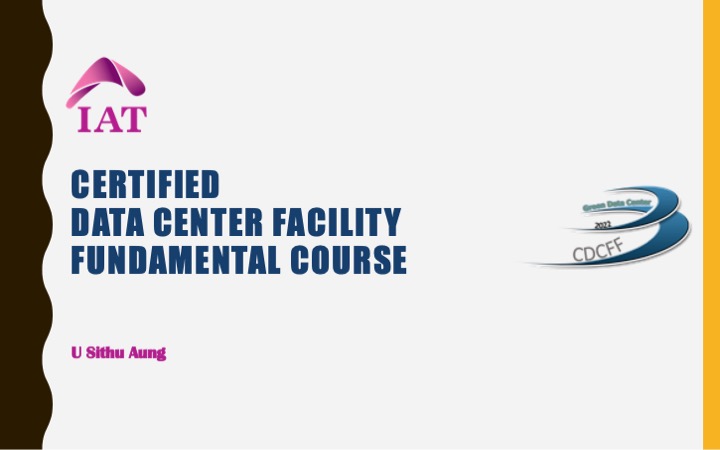 In this course, you will learn the Best Practice of Data Center Facility Systems which cover international and national standard compliance. As this course aligns with both International and National Compliance, trainees will learn the basic requirements of what is the best to enhance the construction and operation of a Data Center regardless of being an engineer but whoever relate to the IT industry and Ones who are planning to invest in any sort of Data Center Businesses.
The trainees will gain the knowledge of how to build and operate a Green and Cost-Effective Data Center standardized by TIA/EIA, Environmental Control Organizations/Associations, IEEE, etc.,. The Course covers knowledge and skills needed to successfully handle the tasks, duties, and responsibilities of DC construction and operation with the fully acknowledgement obtained from the best practice of the course.
Upon completion of the DCFF course, students will be able to perform the following tasks and ready to work in the industry:
The course is comprised of ten (10) topics which cover the below facts.
The complexity and risk factors of data centers that cause downtime.
How to define redundant levels based on ANSI/TIA 942 Standard and what are the references of international standards.
How to select and evaluate the site locations and buildings where the Data Center is going to exist.
The importance of the access floor and its properties to be chosen based on application. Signal Reference Grid (SRG) Grounding system which will be attached to access floor.
Allocating light fixtures, emergency exits, emergency lights, and illumination requirements.
The power requirements, the concept of designing based on Data Center Standard and its requirements. Various types of UPS, Generator, etc…
The formation and impact of Electro Magnetic Field to critical equipment.
Choosing racks, power strips, various cooling systems, managing the Data Center Construction & Operation, many more to study based on below course outlines.